After countless e mails coming through asking me to "Please review my workout" or "Write me a workout...." it baffles me that 99% of the people who have gotten the free gift when subscribing to The Underground Strength Insider are still looking for some soft of a fad or gimmick.
If you train in a globo gym / commercial gym, a garage, your basement or in some corner of your backyard, you CAN become a freakin' Monster. All you need to do is commit to the basics listed below, the Top 10 muscle building exercises.
If you're an advanced lifter, hang tight, I'll be rocking a part 2 for these exercises but regardless, anyone who commits to these 10 exercises will become a monster.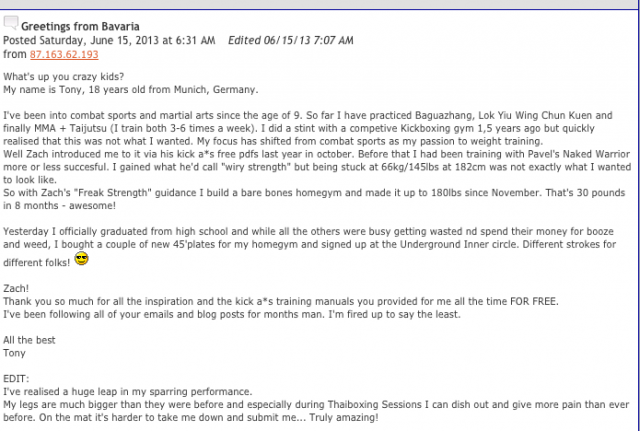 Go to https://zacheven-esh.com/start-here for Your Muscle Building Gifts
Pay attention to this video, take notes and above all else, Take ACTION and train like a MadMan Possessed (Or Woman!).
Top 10 Muscle Building Exercises For A Globo / Commercial Gym
[youtube width="640" height="360"]http://www.youtube.com/watch?v=wyrwPxAAHMM[/youtube]
1) Back Squat
2) Bench Press
3) Deadlift
4) Overhead / Military Press
5) Farmer Walk
6) Chin Ups / Pull Ups
7) Dips
[youtube width="640" height="360"]http://www.youtube.com/watch?v=dGLYYVrm3WM[/youtube]
8 ) Walking Lunges (Barbell On Back)
9) Handstand Push Ups
10) Bent Over Barbell Row / 1 Arm Row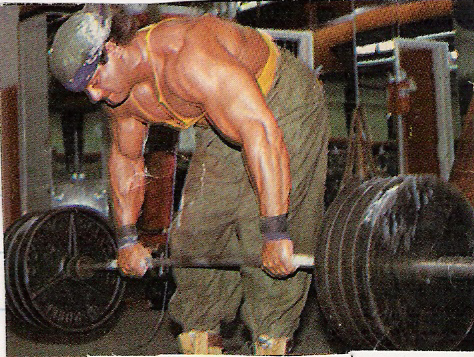 If you're more advanced we can tweak this top 10 list a little more and I'll do that for you in part 2 of this installment. On the flip side, I have been lifting since 1989, close to 25 years. If I stuck to these 10 exercises I would have NO problems packing on serious size and strength.
If you're going to complain about this list you're in the wrong neighborhood, brotha. You're already looking for excuses to make.
Until then, attack this list of top 10 muscle building exercises. And I do mean ATTACK them. Perfect your technique, add weight and add reps to each exercise. NO coasting, only attacking.
Load up on healthy proteins, healthy fats, unlimited greens, some fruit and little carbs. I highly recommend this supplement as it's the only supplement I take day in and day out.
Stay tuned for part 2 where we tweak this top 10 muscle building list yet still keep it doable with free weights and bodyweight, perfect for any globo / commercial gym or your home gym.
Nothing fancy needed. EVER.


Online Coaching With Zach - Details

HERE

(Visited 1,096 times, 3 visits today)