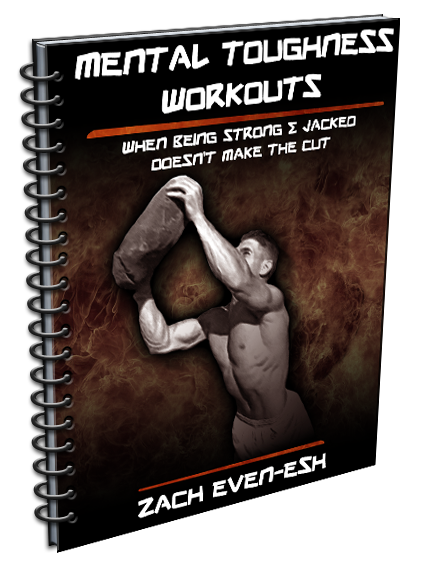 I've been following some of the workouts from SEAL Fit this past week and adapting them slightly to my own according to injuries and my infancy to the program. My volume is WAY less than they recommend, and those LONG distance ruck walks seem nuts but I'll get into some of their methods more and more with each passing week.
Once the rain stops here in The Dirty Jer-Z I'm gonna ride my mountain bike to Uncle Mike's gym, crank a workout then ride home, it will be a solid initial test with regards to a workout with more volume and conditioning mixed in.
Check the vid below of round 1 from a SEAL Fit workout. I finished 4 rounds in 17 min. 26 sec. I later realized I did not include the burpees, which is fine as my shoulder is still on the mend. The workout called for 7 rounds, and I'll be building up to that as well 🙂
As you can see, I am rarely, if ever, satisfied with my success, I always want more.
Check the video below, and you'll see I subbed lateral wall walks for handstand push ups and double squats for the barbell thruster. Only my first set was Kettlebell Thrusters. In 2 weeks or less my shoulder will be fully ready to crank and I'll be getting back to more overhead work.
Don't worry, I will still have my strength focused days but even on those days, I will push the pace along with moving heavy weights. I've always been into the faster paced workouts and prefer incomplete recovery as opposed to sitting around in between sets.
We've got 2 weeks to go till I crank the 1 mile town race, should be interesting.
ALL my workouts are currently centered around competing in some way, shape or form. I love it. I feel young again, reminds me of wrestling and the ability to be able to go through hellish workouts without getting my ass whooped is something I want in my hands AGAIN.
Although I am VERY far from being in the condition I want to be, I feel better than I have in a LOOOOONG time. Gotta keep kickin' ass. Keep the goal in my mind and do all the things I MUST do, not just what I WANT to do.
My nutrition is tighter than ever, lots of fruits and veggies and less calories.
Question for You: What competition have you signed up for that is coming in the near future? If not, go find something and step up to the plate. Drop a comment and share your upcoming competition.
In Strength,
--Z--
Recommended Resources:
Zach's Tough Minded Business Journal
(Visited 141 times, 1 visits today)