It's shocking how many people only want the FREE things.
Not just free in regards to money, but also free in regards to effort.
It's a sign of the times and as a Strength Coach, I feel it's my duty to change this.
If you're a Strength Coach, you should feel the same obligation. You should be inspired and motivated to create change, especially among the weak and timid souls who think they are entitled to everything.
Yes, these complainers irritate me with their poor attitudes but I will get my message to them.
They will Start Here & put in the Sweat Equity.
Those who are walking around with a feeling of entitlement, always complaining, believing things should be FREE are Wrong on all fronts.
Nothing is Free.
Everything comes with a price. Perhaps not in the form of money, but always in the form of effort, dedication and sweat equity.
Watch the Video for my thoughts on the complainers VS the Doers.
[youtube width="640" height="360"]https://www.youtube.com/watch?v=OCiKS3R1pvw[/youtube]
There might be some complainers reading this blog post and watching this video right now.
They are likely wanting free this and free that.
If you've learned any great life lessons through sweat equity, drop a comment below and leave a message for those who think everything in life should be free for them.
I want to see more people of ALL ages, not just the younger generation but plenty of adults / parents out there - I want to see them ALL wanting and loving the opportunity to put in some serious SWEAT EQUITY.
Looking forward to your comments.
Live The Code 365
--Z--
Gain 24-7 Access To Zach
Never Before Seen / Shared Info Since 2005:
New Workouts Every Month, Special Reports, E Books, Training Videos, Audio Interrogations and Much More
Details HERE ($1 For 31 Days Test Drive)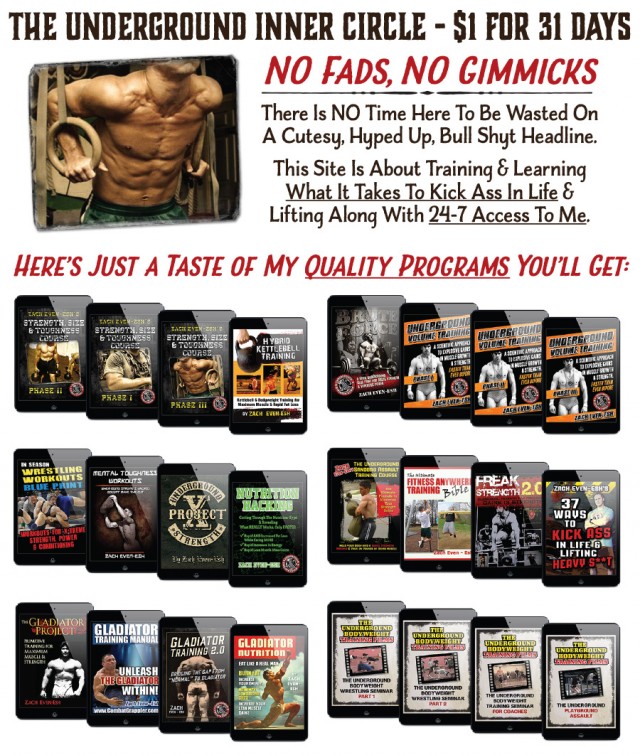 (Visited 99 times, 1 visits today)